Venetian Blinds Valance Options
Venetian blinds come with 3 different valance styles, with different situations where each are needed.
1. Plain Valance
2. Double Return
3. Single Return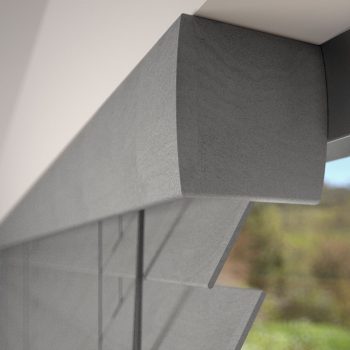 Above: A valance on a wooden blind
Plain Valance.
This is our default option, and what we will provide to you when you order a blind as a recess size, this is made to the same size as the blind width - pre-deduction. This is because if you're ordering a recess size, the blind is generally going inside the window recess, so you only need the font of the blind covered. This means that the valance covers the headrail, the brackets and gives a professional finish to your blind. You may need to sand down one end very slightly for a perfect fit. 
Double Return
A double return is our default option if you order your blind as an 'exact' size. We suggest this sizing option when you're installing outside of the window recess, and so the valance is made slightly wider than the blind, and then cut so that the 2 end pieces can be installed - covering the whole headrail, front and sides - as per the image above. If you are choosing an exact size, but installing the blind in your window, then you will need to cut or sand this down. 
Single Return
Not an option that we default to any sizing option, so this would need to be requested at the point of order. This is where we make the valance with only one return to it, so used when installing at the end of a bay window. With this one end is cut square, and one is at a 45degree angle to allow the side return to be attached, covering one bracket and the end of the headrail. Please request this if installing into a bay window after placing your order by email to: [email protected] 
Was this article helpful?