Vertical blind - louvre troubleshooting
Q. My vanes (louvres) won't turn when I pull the control chain. 
1. If the louvres are jammed when you pull the control chain, first check that they are all overlapping each other correctly. This means that working from one end to the other, each slat is sat on top of the other so they can open without hindrance. If there is a vane overlapping another incorrectly, this will stop the vanes from opening. 
2. If the runners (the clips the vanes connect to) are not rotating normally, remove the vanes and check that none of the runners are pushed into the headrail (below).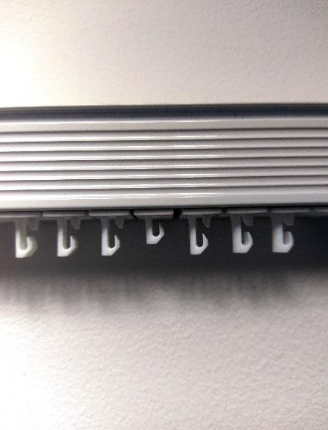 If yes, use a pair of pliers and gently pull the peg back down to the normal position. 
3. Are the runners incorrectly aligned? 
If your runners are looking like below, then you will need to pull the chain until you see the pegs start to align. Once you have pulled the cord as far as you can and the pegs have stopped, you will need to continue to pull with some force. You will hear a grinding noise, this is normal. you will see the final pegs rotate into position. 


If the pegs do not align, gently rotate the lazy traveller with a pair of pliers. The peg will click into place when correctly aligned. 
Once aligned, reinstall your blind. 
Was this article helpful?