What will my Valance look like?
Plain, single return or double return valances depending on your blinds location.
All our wooden blinds are supplied with a matching valance to cover the headrail and brackets.
There are 3 types of valance finishes we provide;
Plain Finish Type
Double Return
Single Return
Recess Measurement
If you select the recess size we will make the valance to a plain finish type. A plain finish type will have a straight cut on either end of your valance, this is typically for blinds going inside the window recess. 
Please note; the width you provide us when ordering is pre-deduction in size. This means that your valance will be 12mm wider than the manufactured headrail of the blind. We make no deductions to the width of your valance. If you require the valance to be a specific size please contact us within 24 hours of your order.
Exact Measurement
If you select the exact size, we would make the valance with a Double Return. This means that the valance will be cut at an angle on either end, at a 45-degree angle to allow the smaller returns to sit flush against the front valance. This is typically for blinds going outside of the window recess and finished off the top of your blind in a professional way. You would then use the side returns included in order have a box finish, please find the image below for reference.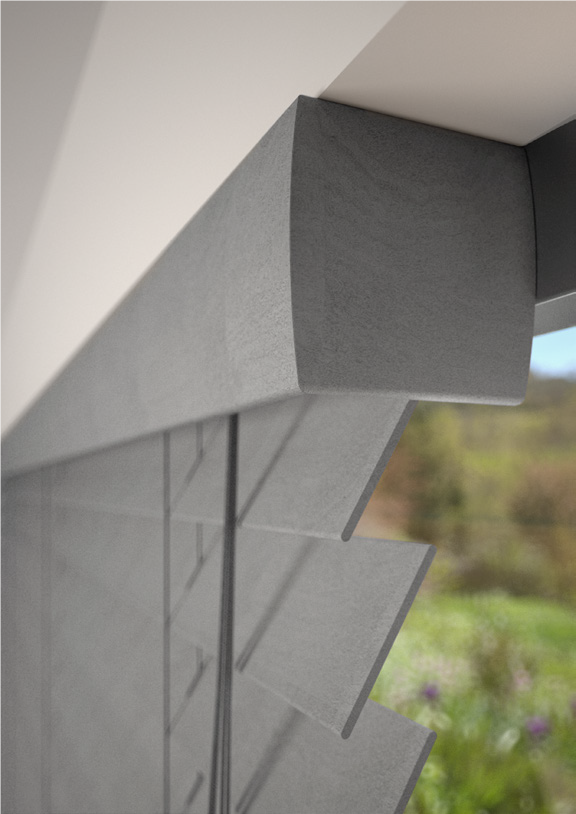 Because of the side returns, the front valance will be 45mm wider than the given blind width. 
Additional options
Single Return Finish
Our Single return finish will mean that the front valance on one end would be cut to a mitered return and the other end will be cut to a straight finish. Best for when only one end of the blind will be on display, like a bay window. Please request a Single Return Finish for this option.
How to select the valance you would like?
To select the valance you require or if you need to amend the size, please send us over an email at [email protected] with your order reference number (sent to you once you have made payment) the measurements of the blind (Width x Drop) and request either the specified valance width or the type of finish you require.
Was this article helpful?